About Petalled
Picture this: You encounter a breathtaking flower arrangement sitting with stunning grace atop a table. Inspired, you think to yourself, "I could make that!"
Spoiler alert: You can't... Yet! That's where we come in.
When your Petalled box lands on your doorstep, you'll open it to find a magic garden of gorgeous blooms next to step-by-step instructions that will help you — yes you—create your own incredible bouquet
Get out your Petalled vase and get started: Soon, you'll have an amazing display featuring pops of colors and bursting sprays, all put together by the world's newest floral artist: you.
Pretty. Brilliant. Your friends will say "I didn't know you could do that!" And you'll casually say, "Oh yeah, I can." Because you just did.
how it works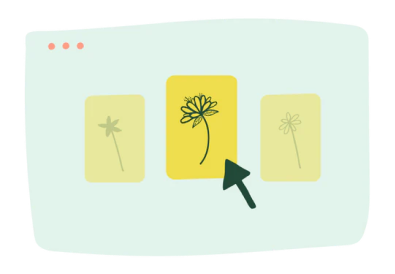 Step 1
Choose your Blooms
Head to our shop page and choose your arrangement by size, and we'll take care of the rest! One-time purchases or subscriptions - we've got both! Come back often because our growers choice flowers swap out every few weeks!
Step 2
Prepping Your Petalled Package
Our team of US growers gets to work! Picking, packing, shipping - they do it all and ensure you have the freshest flowers, shipped overnight every time, arriving at your door!
Step 3
Unbox Your Goodies and Get to Work
Vase labels, a recycled paper ruler, & step-by-step instructions will make creating your new arrangement a breeze!
Step 4
Show off your petals!
You're officially a Petaller! Show off those stems on social media using #getpetalled for a chance to be featured
MEET KATIE
PETALLED FOUNDER & CEO
We know what you're thinking—she's got to be some kind of floral genius, right? Right—and wrong. A few years ago, Katie Dos Santos was a lot like you: Taken by the stunning floral arrangements she so often encountered but absolutely mystified as to how she could ever create one herself.
Transparency
We believe that transparency is the first step towards trust. All Petallers have a right to know what goes into the cost of their arrangement. Here's an overview:
FLOWERS
PACKAGING & MATERIALS
COLLATERAL
DESIGN
OVERNIGHT SHIPPING
Total